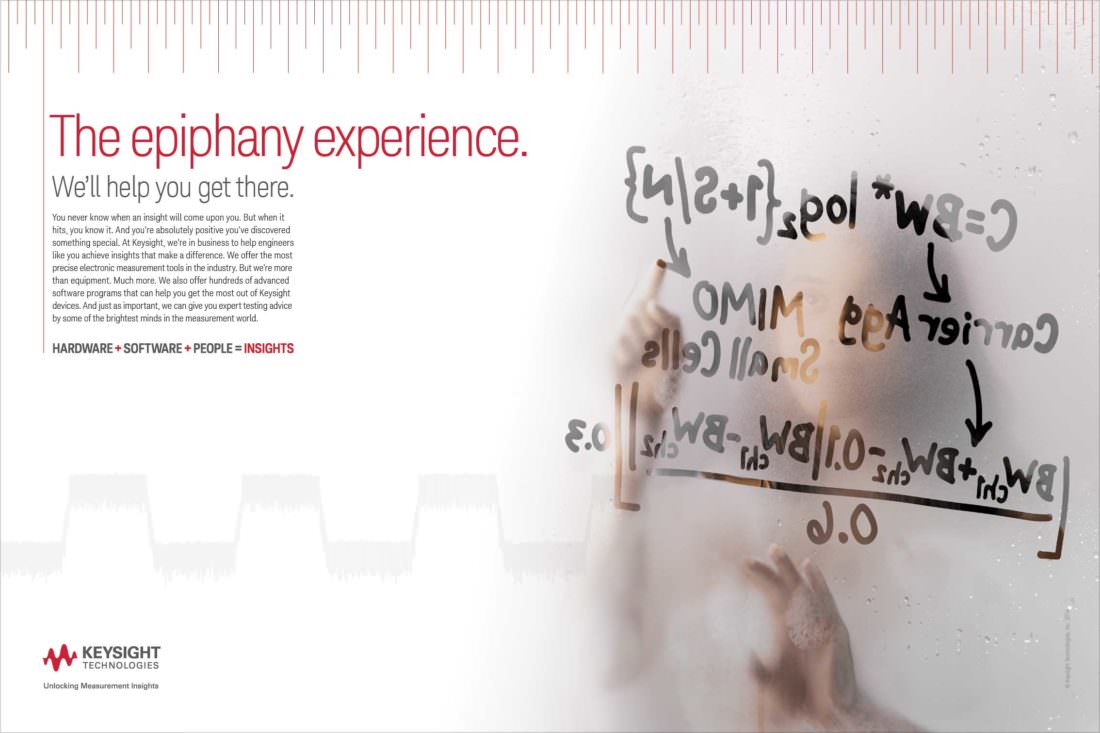 Hydrogen Tapped by Keysight Technologies For Global Advertising Launch
Today executives from Keysight Technologies, Inc., rang the opening bell of the New York Stock Exchange to mark the launch of Keysight as a new publicly-traded company and to celebrate its spin-off from Agilent Technologies. Concurrently a new ad campaign, developed by Hydrogen Advertising in Seattle, will target electrical engineers worldwide with the message that Keysight Technologies can help them bring new and emerging technologies to market faster.
The multi-media campaign captures spontaneous "Aha!" moments in a way that engineers from anywhere in the world can relate to: scientific equations jotted down in a blaze of insights central to the most pressing challenges facing electronic test and measurement today.
"We are honored to help Keysight Technologies launch this program to introduce itself to the world," said Hydrogen president Rick Peterson.
While Keysight is a new name, the company has more than 75 years of measurement expertise under its belt—from its founding as Hewlett-Packard, and then as the electronic measurement group of Agilent Technologies.
"Keysight Technologies is now 100 percent focused on electronic measurement with its hardware, software, people and measurement expertise to help engineers get to the insights they need to succeed even faster," Peterson added.
Built around the line "Hardware + Software + People = Insights," the new campaign also highlights actual Keysight engineers who are active on the forefronts of measurement science.
"Our team, and the design and test tools we create, have the power to help our customers solve problems, reduce risks and speed development from design through manufacturing," said Keysight marketing programs manager John Shields. "Working with our agency partner, Hydrogen, we've created a campaign that highlights the insights engineers arrive at, whether they're in wireless communications, aerospace and defense, industrial, computers or semiconductors applications."