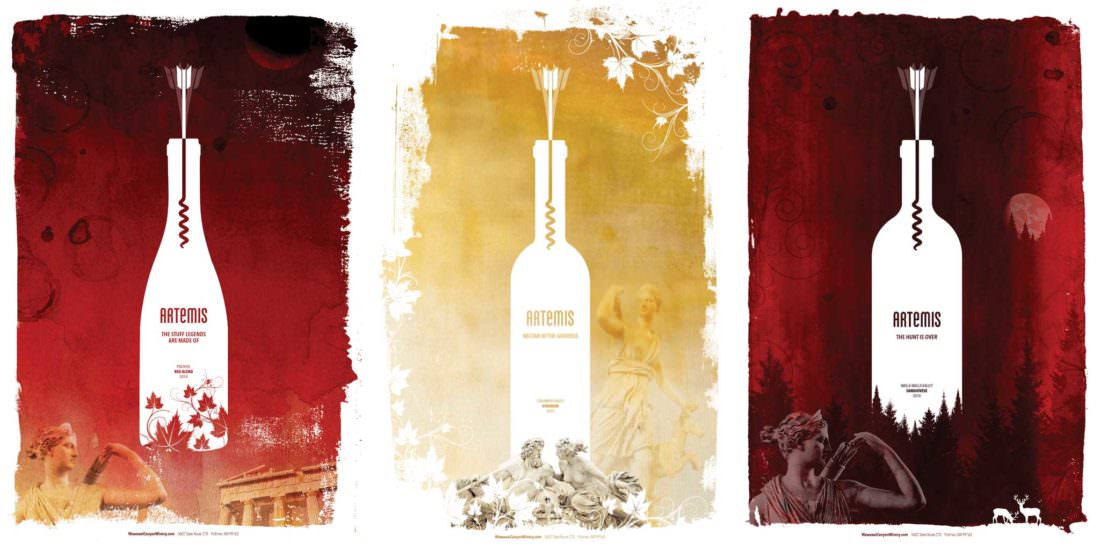 Hydrogen Seattle Uncorks New Identity for Wawawai Canyon Winery's New Artemis Label
Eastern Washington winemaker Ben Moffett of Wawawai Canyon Winery is partnering with Hydrogen Advertising in Seattle to help launch the family's new Artemis label of wines created to pair with food.
The line will ultimately carry up to four labels of light-to-medium wines targeted to women who are already active in the wine culture.
Inspired by the goddess of the hunt, Hydrogen's identity and label design for Artemis features an iconic arrow-shaped corkscrew, which will also be created in 3D with the help of local metal workers. Posters, case labels and other sales materials leverage the Artemis theme by combining images and layers from mythology, the forest, ancient statuary and architecture and of course, grape vines. "The imagery reinforces the duality of Goddess and wine," said Mary Knight, Hydrogen Executive Creative Director. "With language like 'Nectar of the Goddess,' and 'The Hunt is Over, our goal was to add a layer of approachability to the images–leaving the audience with a smile," she added.
Known for exceptionally balanced wines, Wawawai Canyon Winery was the first commercial vineyard established in Whitman County since the prohibition in 1994. Second-generation vintner Mr. Moffett hopes to introduce the Artemis label to wine drinkers in Seattle and beyond.