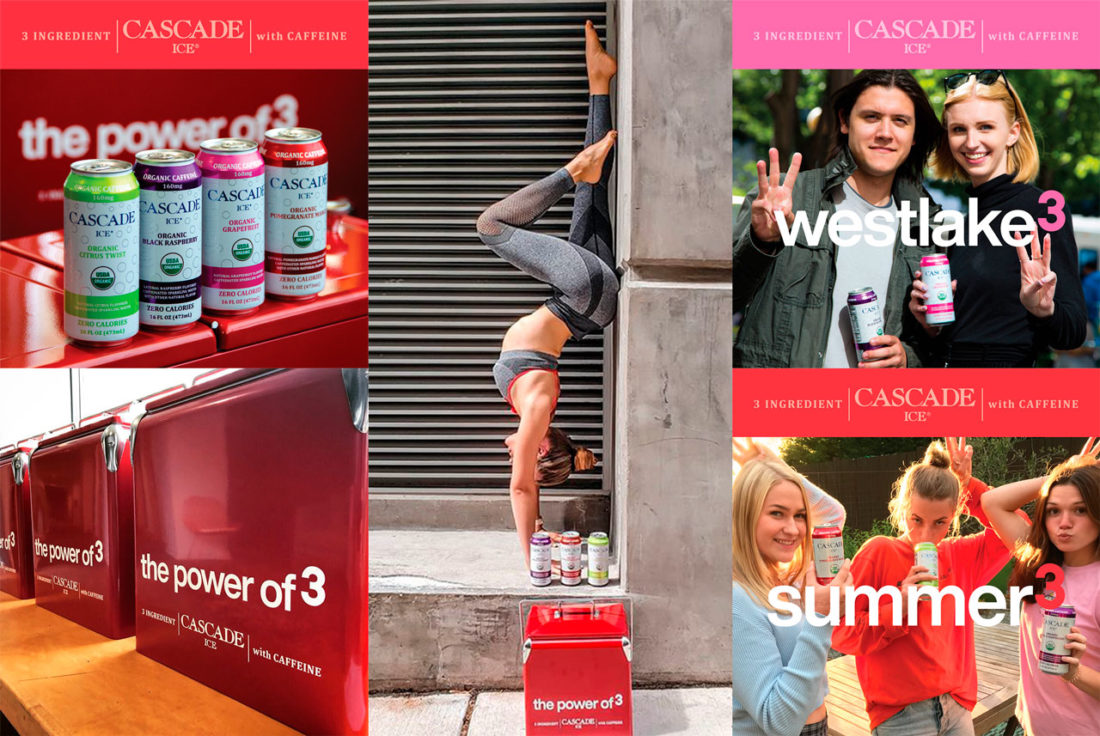 You Had Me at Caffeinated
The Dog Days of Summer were a little cooler here this year at Hydrogen. Because in late July, we partnered with Cascade Ice to create and orchestrate a multi-pronged launch of their newest sparking beverage: 3-Ingredient Cascade Ice Sparking Water with Caffeine. The USDA-Organic certified water is available in four flavors including Blackberry, Pomegranate Mango (my favorite), Citrus Twist and Grapefruit—each made with three simple ingredients: carbonated water, natural organic flavor and organic caffeine.
Under the Hydrogen-created "Power of 3" brand idea, our team created social postings, reviewed, hired and managed health-minded local Influencers and orchestrated multiple samplings at key Seattle Summer events like Seafair and popular locations including South Lake Union and the "Center of all things in Seattle," Westlake Plaza.
For Influencers, we created a special "Power of 3" cooler with all flavors inside on ice. The coolers were hand-delivered to Seattle-area micro-Influencers (10k-100k Instagram followers). After just four posts, the campaign generated more than 5,500 likes, 361 post comments and an engagement rate of 1.2% (placing this effort right within the industry average.)
The sampling focused in on two high-traffic Seattle areas over five days. The first three days were just outside of the main gate at Seafair, and the last two were in the Century Plaza area at 4th and Pine. Almost 12,000 samples, complete with a scannable sticker to find out where to buy product, were handed out by street teams and everyone from Seattle Police to Seattle tourists were thankful. One thirsty recipient said it best: "You had me at caffeinated."
A powerful theme. Engaged Influencers. Busy street teams. Pretty cool all around, we say.