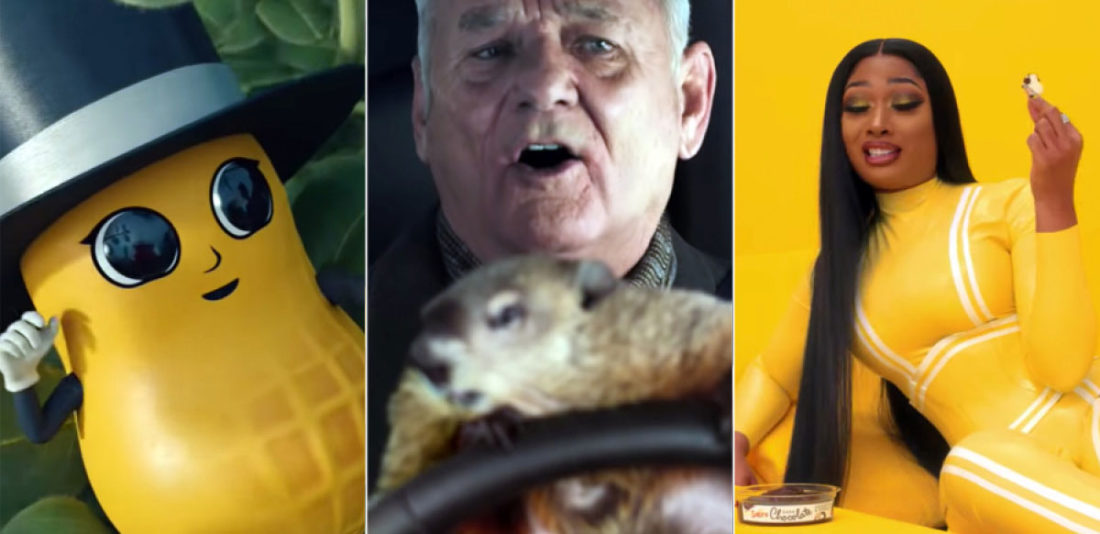 2020 Super Bowl Ads: Record breaking advertising revenue, social media reactions and… politics?
According to AdWeek.com, Super Bowl 54 likely generated a record-breaking revenue of $435 million from in-game advertising. If you include the pre- and post-game advertising, that number rises to $500 million. The previous record was set during the 2017 Super Bowl, which recorded a revenue of $390 million. Automobile manufacturers spent more than any other industry, with $77 million spent on seven minutes and 30 seconds of commercial run time, while the second largest spend came from the technology industry, spending $51 million.
How did the Super Bowl ads fare on social media? In short: they were all over the place. Planter's commercial featured the creation of their new spokesperson, Baby Nut after the death of Mr. Peanut a few days before the Super Bowl. While this advertisement did generate a lot of attention on social media with comparisons to Baby Yoda, their #BabyNut did not fare so well. Apparently, when you search the hashtag on Google, some disturbing images come up rather than the cute baby peanut featured in the 30-second spot. Some favorites on Twitter were the Hyundai "Smaht Pahk," featuring some famous Boston icons Chris Evans, John Krasinski, Rachel Dratch and David Ortiz, Pringles Rick and Morty commercial and Google's emotionally charged "Loretta" commercial. However, one of the biggest controversies going into the game came from Tom Brady. With the 42 year-old quarterback pondering a decision to stay in New England or finish his career with another team, he took to Instagram a few days prior to the Super Bowl to post a picture of him in Gillette Stadium. Many users argued over the meaning of this picture, claiming that it would lead to Brady announcing his retirement, or that he would announce leaving the Patriots organization in the coming weeks. It ended up being a still from a Super Bowl commercial for Hulu. While the spot was underwhelming for most people, fans of the Patriots and of Brady himself watched the commercial very closely as the script teased the idea that he was going to retire from football. Turns out, the joke was on us as he ends the spot by saying, "I'm not going anywhere."
My reaction to when Tom Brady came on to my screen!! I can't even describe the feeling when I thought he was going to say what I thought #SuperBowl #SuperBowlCommercials #Reaction #PatriotsNation 👑 pic.twitter.com/2mnJfZBlfF

— Jay Jay (@jayjaymccrae) February 3, 2020
For the first time in Super Bowl history, political ads were featured. One ad by President Donald Trump and the other by Democratic candidate Mike Bloomberg. These were the first political ads to be nationally televised during the Super Bowl (In 2004, Barak Obama did run ads but only on the local level). While February 2nd was a monumental day for political advertising to run on America's biggest stage, social media users had their own thoughts and opinions. Both political ads received their fair share of criticism and praise, however an overwhelming majority of users shared the same opinion: political ads don't belong in the Super Bowl.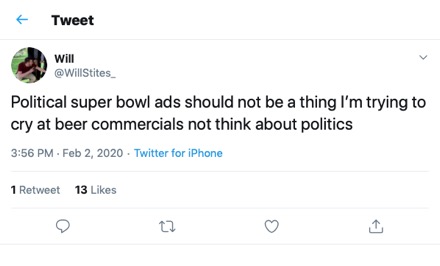 Most critics agree, commercials were hit and miss this year. But both the hits and misses generated a lot of longer conversations on social media.