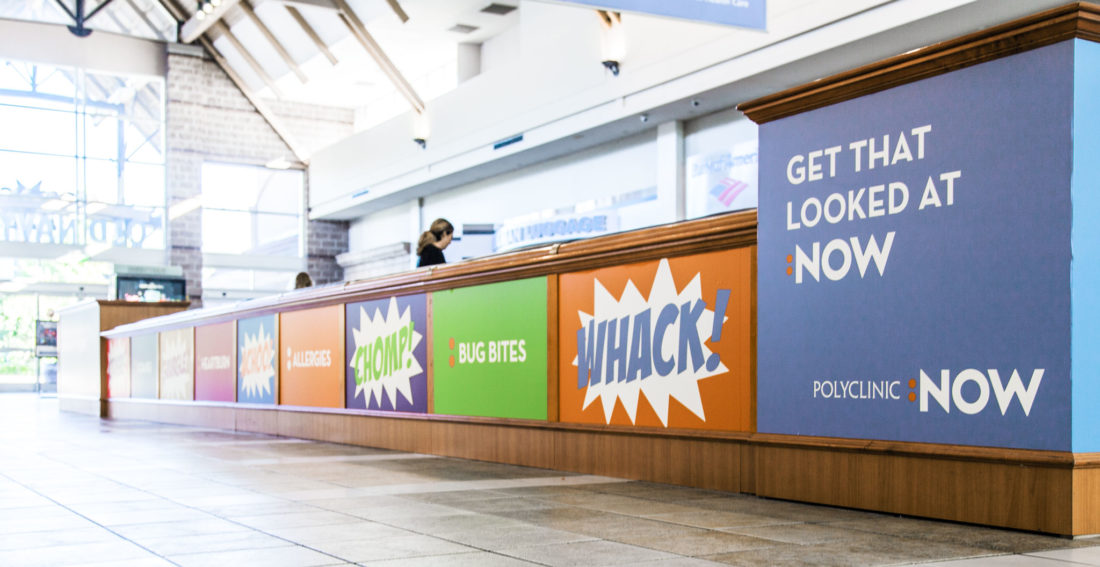 Launching a Sub-Brand Without Breaking the Bank
Our long-standing health care client, The Polyclinic, came to us with the kind of puzzle we love to solve-how do you create an identity and launch a sub-brand with a limited budget?
The Polyclinic was launching their first "walk-in" clinic in Seattle and partnered with us in every aspect of the launch. We created the new name (Polyclinic: NOW), a new logo and a phased advertising and direct mail campaign to drive awareness and trial.
The challenge was how to do this economically. While this would be a substantial new category for the medical group, they were only opening one location in 2017. We needed to be ruthless with our time and media dollars to make everything work as efficiently and effectively as possible.
The first step was to create a name and logo that built on the equity of The Polyclinic name and logo. Then build a creative concept that quickly amplified what Polyclinic Now was all about-walk-in health care for life's little ups and downs-the bumps and scrapes, the flu, sports injuries. And portray it in a way that reflected the brand personality-friendly, approachable and easy.
The next step was to tightly target the media footprint to the immediate trading area of the first location and create a message in the space that got people's attention.
The logical target audience for walk-in medical services was parents in the area. Our media team found numerous creative and cost-effective ways to reach moms and dads. Beyond the obvious outdoor boards highlighting the actual location, we recommended new vehicles as well, such as a six-month takeover of the kid's play area at the shopping mall nearest the clinic, on-going in-theater ads at the nearby movie multiplex (plenty of parents there!) and then geo­fenced mobile ads, timed to be displayed ONLY when the walk-in clinic was open.
In total, the new creative and media helped Polyclinic Now build a relationship with and reach their target, new patient numbers ahead of schedule!